How to Play Basketball Overseas
Written By: Lamar Hull @ Google+
Making it as a professional basketball player is NEVER easy, especially for a scrawny, 5 foot 9 inch kid who initially no one took seriously.
However, perseverance, dedication, tenacity, and hard work can go a long way to supplementing natural talent and making a pipe-dream a reality.
I went from shooting basketball with my brother at the park, to becoming a local basketball star, to playing D-1 basketball, to signing a professional basketball contract with the King's Lynn Fury in England.
Before we discuss how to play professional basketball overseas, I want to give you a little history on what it took for me to earn an overseas basketball contract. 
Highlight Video of Lamar Hull at Davidson College & Overseas
High School Basketball
Besides God & Family, basketball played a BIG part in my life, my passion for the sport had no boundaries.
For as long as I can remember, playing in the NBA was the ULTIMATE goal like a million other kids. I spent hours in the gym improving my skills, getting stronger and ensuring that I gave myself the BEST chance to make it in this sport.
Working hard everyday paid off in my senior year of high school. I went from being a good basketball player, to a team leader, and to a college basketball recruit.
I averaged 28.5 points per game that was coupled with a healthy assist record. I received a nomination for various awards, including:
North Carolina Mr. Basketball Nominee Award
Conference Player of the Year
All-Uniform
All-Conference
All-Regional
All-Tournament
Graduated 5th in my class; taking AP courses
Scored over 1,000 points in my high school career
This is not to brag, but with consistent hard work and a NEVER give up attitude, no matter what ODDS are against you, keep fighting and working EVERYDAY and good things can happen!
These stats helped pave me to play at the collegiate level and then be presented with overseas basketball opportunities. 
Can You Play Pro Basketball Overseas Without College Experience?
Davidson College Men's BasketballL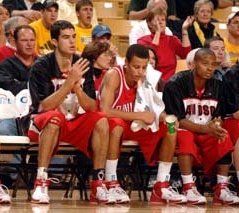 From 2005 to 2007, I played college basketball for Davidson College. During this time, I faced MANY challenges that made me wonder whether I had what it took to continue my basketball career.
Not a lot of people know this but, I was cut from the Davidson team my freshman year, only placed on the traveling team my sophomore year, and saw limited playing time during my junior and senior years.
I would have liked to become a key role player my senior year, but a current NBA superstar by the name of Stephen Curry was recruited to the Davidson team.
Stephen Curry shocked the ENTIRE country with his performances as a freshman and has gone on to have a successful NBA career with the Golden State Warriors.
My mental strength and resolve allowed me to get through these difficult moments as a bench warmer. Even though I wasn't a starter or got much playing time, I worked harder than anyone in training to improve my game and be the BEST teammate possible.
Davidson's Head Coach, Bob McKillop was a massive fan of my efforts and work habits. My leadership skills, personality, willingness to improve, and dedication to the sport persuaded Coach McKillop to help me find a professional basketball team overseas to play for or at least get a tryout after college.
Coach McKillop reached out to his contacts in Europe and found me a place on a European basketball team. He spoke with Sean Kilmartin, General Manager of the USA Select Basketball Association, who helped me find a spot on the Kings Lynn Fury's team in the United Kingdom.
Coach McKillop's personal recommendation went a long way to making this happen. He spoke to Mr. Kilmartin about my skills as a man and a basketball player.
Sean Kilmartin and the USA Select Basketball Association, helps talented basketball players earn professional contracts overseas by allowing those players to showcase their basketball skills in front of European college coaches. 
It might not have been the NBA, but I was thrilled to play basketball in England's Basketball League, one of the top leagues in the United Kingdom.
The sport has taken off in England, and the quality of competition improved over the years. More than that, my DREAM of playing professional basketball had finally become a reality.
Playing Professional Basketball in Europe
I spent a year in Kings Lynn, where I led all point guards in the league in points, assists, steals and rebounds.
After that yea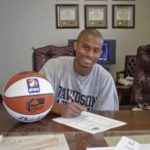 r, I decided to pursue another career away from basketball. I had my daughter, so I took my talents back home to be a dad. Through the blessings of God, I was able to achieve a MAJOR goal in my life.
Despite rarely playing in college, I earned a professional basketball contract overseas. Without God's hand, my family, Davidson College & Coach Mckillop, my hard-work, and persistence I wouldn't have been on the path to achieve my goals and dreams.
Sean Kilmartin and the USA Select Overseas Basketball Program
Sean Kilmartin's – USA Select Basketball Program
If you are interested in playing professional basketball overseas
, Sean Kilmartin helps players fulfill their dreams by playing against overseas teams, showcasing your talents, and trying out.
Now, let's get to what you came for! Here is a step-by-step guide on how to play professional basketball overseas. 
How do I know?
Because I did it…
---
Tips for Playing Professional Basketball Overseas
A lot of players ask, can I still play professional basketball overseas without going to college or having college experience?
The answer is YES!
I have several friends that have done it! Sometimes it isn't about what you know, but WHO you know that will vouch for your game. Like coach Mckillop did with me with Sean Kilmartin!
There are a lot of professional overseas basketball opportunities for players looking to take their skills to the next level.
Europe offers great opportunities for basketball players to play basketball and get paid for it.
Don't stop chasing your dreams to play in the NBA, but you definitely have to keep your options open as a small percentage of the players across the world actually play in the NBA.
The thing that you need to do is to understand what this means for someone who might consider playing basketball overseas.
Players need to understand the appropriate steps that they will need to take in order to succeed in this venture.
Here are some tips that will help players become equipped with the leverage to take control of their future as a professional basketball player overseas.
1. Get a Basketball Agent
While there have likely been some basketball players going overseas and playing successfully on teams without an agent, it only really hurts you to operate without one.
An agent has a specific role to play in all of this, and it is PROTECTING your best interests and seeing that you are getting appropriately compensated for what you might have been agreed upon and what your talent level provides.
Your agent is your mouthpiece, your representative, and often times your BIGGEST advocate when dealing with basketball clubs overseas.
They will be the ones who are able to help you find tryout opportunities and contracts overseas.
They also have other players that they represent and they have dealt with a lot of European teams, so they know how to MAXIMIZE your contract.
Here is a great list of the top European basketball agents.
2. Have a Highlight Tape
The very best way to start spreading the news about your skills and accomplishments as a basketball player is to mail off a highlight tape of these achievements.
This will give people responsible for the team a chance to see you in action in many different scenarios and appreciate firsthand the kind of impact that you can have as a member of their squad.
Take time with the creation of this highlight tape, and make sure that it is edited so that there are no dull moments. You have got to show new potential teams your assets both offensively and defensively.
While everyone likes someone who is a hot shooter and can score a lot of points that is only half of the game. If you do not show them you are capable of defending as well, and that you are the ENTIRE package, this could cause them to lose interest.
How are you a unique player, thousands of other players are submitting their highlight tape as well?
My good friend D Man creates the most inexpensive sport's highlight tapes on the planet, check him out. You can't beat a highlight tape that will cost you between $5-$50, most highlight video services will charge you an arm and leg.
You can check D Man out on fiverr.com and the video in this article, is the highlight tape that he created for me.
3. Stay Focused by Continuing to Workout
Making sure you stay conditioned and always ready for an overseas tryout opportunity will be key in landing a coveted spot on a professional European basketball team.
Typically, there are only two American players per European team, so you have to be more conditioned than everyone else in the tryout pool.
You have to keep working out harder and striving to improve in areas that need the most improvements. When the tryout comes or you sign your contract, it is not an opportunity that will happen twice for the same team barring any extraordinary circumstances.
So, you have to be at your performance peak to show off everything you are able to offer.
4. Preparing to Go Abroad
So, you've gotten onto an overseas basketball team and now you are curious what to do next.
The very first thing is to get your VISA affairs in order. You have to get yourself approved and eligible to travel abroad and live in another country conditionally by being employed through the team.
This might take time, so be sure to act quickly upon the finalization of a contract agreement.
You have an opportunity to play the game you love and make serious money playing basketball overseas.
If you work hard and stay at the top of your game, this could be a career move that can have lifelong ramifications, such as future coaching opportunities back in the United States or abroad as well.
So work hard and stay focused, the opportunity is yours to take.
[xyz-ihs snippet="inpost-form-1″]