Is there anything our youth basketball programs can take a way from the increased number of international players in the NBA?
The 2016 NBA Draft was a record-breaking event for international players. This means that all or almost every team in the NBA has at least one European player on its bench.
According to several sources, there were 124 European basketball players in the NBA out of 449 total NBA players during the 2015-2016 season. That's 28% of current players!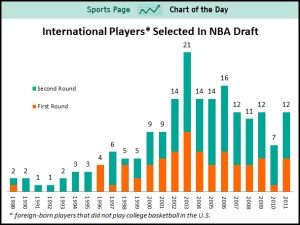 This charts stops at 2011, but you can see the trend and rise of international players in the NBA year-over-year. 
This has raised several questions both for the fans, players, and teams. In this article, we will review this change and what it means for up and coming American players.
Why are international players showing up so much more in the NBA draft?
Some believe that we are seeing more foreign basketball players because of advertisement overseas and the deals put in place which allow the NBA to live stream to other countries around the world.
Others believe that European players are developing better skills at the youth level compared to young Americans. 
What you need to know:
The 2016 draft featured 100 international players from 37 different foreign countries.
Of the first round of the draft, 14 of the 30 men were foreign-born players.
Canada has the most players drafted at 12, France has 10, and Australia has 8.
The 2016 NBA Champions, Cleveland Cavaliers had five foreign players on its roster.
So, why has there been an increase in International players in the draft?
A controversial comment made by Kobe Bryant may give us an insight into why European players are featuring heavily in the 2016 draft.
Bryant was said to have explained that European players were better ball-handlers than players trained in America.
They have better skills when it comes to making their way around the court so they are naturally in high demand for the draft! 
While Americans may wonder what happened to the golden years when the majority of stars were Americans that owned the court, Europeans, along with all other foreign players, are a huge focus going forward and are playing in a way that reflects that.
Is it time that the American public turns away from the past and start looking forward to the new future of the NBA?
What does this mean for American basketball players?
What needs to change with America's youth basketball programs? 
The 2016 draft should serve as a wakeup call for any American wanting to play in the NBA.
Not only has the level of expertise risen dramatically, but the NBA has discovered this talent from off-shore sources.
They do not have any mandate that requires them to choose only Americans for their teams.
While there has been notice of the rise of international players in the NBA, it is obvious that there are still tons of very talented American players.
This article is not to compare European players to American players and each others' stock in the NBA, its main purpose is to look at the basketball development at the youth level in America.  
Want to Improve your Coaching Knowledge? Basketball Classroom Improves Coaching at All levels.
How can youth basketball programs better develop the skills of young players?
The majority of young players in America that are passionate about basketball typically play AAU at an early age, the general opinion seems to be that these players need to be schooled in the art of basketball fundamentals with not such a HUGE focus on WINNING.
For these young athletes to develop to be the best players they can be, they need to be trained on a solid foundation of basketball fundamentals, such as:
Making lay-ups effectively with both hands
Proper techniques of playing Man-to-Man Defense
· And much more…
If more American players are provided with this type of fundamental training at a younger age, and are provided it in a focused and fun atmosphere, they are significantly more likely to continue to play and will have a better foundation of basketball skills. 
Most importantly, this could raise the level of basketball skills in America across all ages.
This type of coaching could help kids develop a keen attention to detail and a better understanding of the importance of basic fundamentals on and off the court.  
The AAU and YBOA programs should be pioneering a style of game and training that focuses heavily on young players being well-rounded and strong in all areas in the game.
In my opinion, I think this is starting to happen more frequently!
Games can also be structured where teams are having more practice time than just playing a ton of games. The goal is to play and compete, but if a lot of these AAU teams can become actual teams, these kids will be better for it.
All youth basketball programs and youth sports program to that matter, should be held accountable for all basic fundamental teaching. It is like grade school, kids learn building blocks at every level that will help them to become better citizens, people, employees, etc. 
When all is said and done, the new NBA draft has shown us that basketball is no longer a game to be solely played by Americans.
It has shown that some of the best players can come from overseas and the fundamentals of the game is a BIG focus for the international culture!
With some modifications to youth programs such as AAU, YBOA, and the American basketball cultural in general, American players could consistently generation-after-generation, gain a different experience in the game of basketball with a focus on fundamentals from the very start.
Not to say this will reduce the amount of European players in the NBA or that we shouldn't have a good mix of talent around the world in the best basketball league. 
If you have talent and your NBA caliber, no matter where you are you should have the opportunity to be drafted. 
The fundamental focus of basketball with basic level teaching at every age level can enhance the skill-set of American youth basketball going forward as it shouldn't be all about winning and turning young kids in to cash cows!
[xyz-ihs snippet="inpost-form-1″]
What Does More European Players in the NBA Mean?
by
Lamar Hull